When we heard that Helen Gurley Brown had died on Monday in Manhattan, Bob and I were very sad. Helen and her husband, David Brown, had been friends of ours for many years. But almost immediately I began to smile as I thought of the happy times we had spent with them over thirty years. Such wonderful memories. Bob smiled too.
Helen became a fan of mine, as did David, after reading A Woman Of Substance, and I had always been a fan of hers, ever since I picked up the first issue of Cosmopolitan which she edited and revamped. A staid, somewhat dull magazine became a sensational looking and fabulous publication for the modern woman. Helen and Cosmopolitan did much to change the way women thought about themselves. Like her book, Sex And The Single Girl, the magazine was the first to introduce frank and open discussions about sex in a magazine for women, as well as other subjects. The first issue came out in July 1965, and Helen was at the helm until February of 1997. Thirty-two years! No other editor that I know of has been as closely identified with a magazine as Helen. The new look and new ideas were all hers. She convinced us we could have it all… career, marriage and children, and many women have managed to do that, but not all. In any case, she changed the look and content of women's magazines forever, and for the better. And everyone has copied her.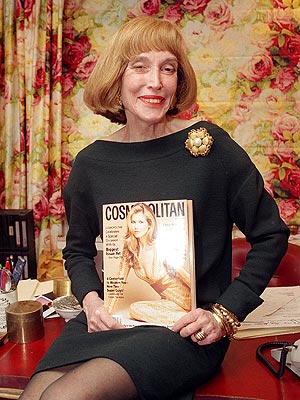 Helen was slender, petite and chic. She dressed with flair, kept her weight under control, and always looked fantastic. Ambitious, driven, tough, immensely talented and highly intelligent, she was also flirty, witty, amusing and kind. Bob said to me earlier today that Helen was a nice woman, and that's the truth. We often had dinner with them in New York and Bob and David had much in common, because they were both movie producers and movie buffs. David was a gentleman of the old school, always charming and gallant.
There is one occasion Bob and I remember well, when we went to the Deauville Film Festival, and where I was to receive an award for my body of work in film. Bob was giving a luncheon afterward, and he invited lots of our friends to come and celebrate with us. Sure enough, David and Helen came, and so did the late fashion designer, Pauline
Trigère
. And many friends arrived at the French resort to be with us.
I remember chatting to David at the cocktail reception before the lunch, and with me was Pamela Harriman, at that time the US Ambassador to France, who had presented the award to me. Suddenly, David stopped talking and rather abruptly. Pamela and I exchanged glances, and then we both smiled when he exclaimed, "Here comes Helen! Now doesn't she look foxy?"
And indeed she did, in a short little dress, high heels and long hair. He got it right. And they got it right together. They had the happiest marriage, somewhat like ours. They supported each other in every way until David died two years ago.
Helen Gurley Brown died this week at the age of ninety, after a wonderful life. She will be missed by us, and all of her other friends. Farewell, Helen. Bon Voyage.